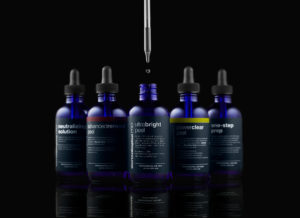 Pro Power Peel 30 30 minute treatment £40
Looking for a professional peel experience?
The Pro Power Peel redefines the peel experience. It's Dermalogica's strongest and fastest peel yet, the Pro Power Peel collection features a full suite of peel products including Alpha Hydroxy Acids (AHAs) and Beta Hydroxy Acids (BHAs). In this express 30 minute treatment I will create a customised peel to instantly rejuvenate and refresh your skin. It is ideal to target lines and wrinkles and help uneven pigmentation or breakouts.
PRO POWER PEEL 60 60 minute treatment £65 (Includes after care skin set)
Want to experience a truly transformative treatment?
This effective and customised 60 minute treatment combines the benefits of my Pro Power Peel 30 treatment with additional advanced technologies. Peel results are dramatically enhanced by a supplementary deep treatment process incorporating powerful IonActive serums, a customised mask, LED light therapy and a relaxing face, neck and shoulder massage to ensure your skin is left clear, smooth and glowing.
Post-treatment care
Your skin condition, skin concerns and dedication to post-treatment care will impact the frequency and results of Pro Power Peel treatments. Ideally, a series of treatments are performed over a 3-12 week period, followed by maintenance treatments twice a year.
Immediately after your Pro Power Peel treatment your skin may appear red and flushed. As your skin goes through the renewal process, it is normal to experience dryness, redness and tightness, as well as some peeling or flaking within a week. You may also notice a temporarily more pronounced appearance of pigmentation as it rises to the skin's surface. These side effects will subside quickly with proper post-treatment care, starting with the Pro Power Peel After Care Kit.
Is there anything I need to do to prepare for my Pro Power Peel treatments?
Once I determine if you are a candidate for Pro Power Peel treatments I will prescribe a Dermalogica product pre-treatment regimen specific to your skin condition. As a general rule of thumb, it is good practice to discontinue the use of prescribed exfoliants (such as Retin-A and Renova) at least 48 hours prior to, and during, Pro Power Peel treatments.
I used to take Isotretinoin (also known as Accutane). Can I receive Pro Power Peel treatments?
Yes, but only if you've been off Isotretinoin for more than 6 months.
I'm pregnant. Can I receive a Pro Power Peel treatment?
No. Your skin may be too sensitive for the highly-acidic nature of Pro Power